High School Musical-Sharpay Girl's Costume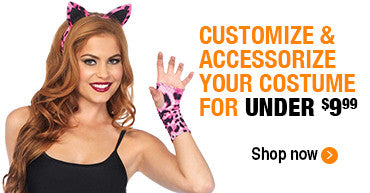 Save With




Seasons Saver Shipping
#882948
Join the caste of "High School Musical" this Halloween as Sharpay with the Sharpay Deluxe Aqua Dress.
The Sharpay Deluxe Aqua Dress Costume is bright blue, knee length and embellished with a poofy, wavy bell skirt and completed with a tank top, black lined bodice. A brooch and headpiece complete the Sharpay look.
The head mic, jewelry and shoes depicted are not included with the costume.
Included: 
Sizes: S(4-6), M(8-10), L(12-14)